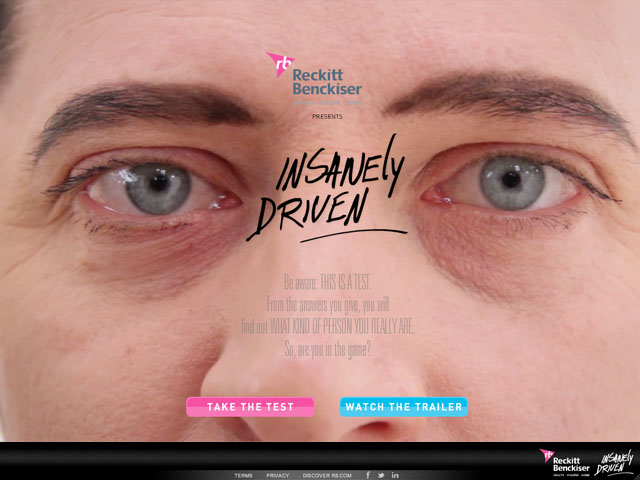 ---
Brief
We were approached by Euro RSCG to create an interactive profiling tool for Reckitt Benckiser. They wanted to attract more graduates to their company, and wanted a profiling tool to identify 'Insanely Driven' candidates – those that would fit into the company ethos.
We devised an interactive experience based around a simple, implied set, centered around 3 actors, each playing several roles. The user is encouraged to make decisions based on various scenarios presented to them – their decisions ranking them in terms of ambition, cool-headedness, fearlessness and directness.
To ensure the validity of the profile generated, we enlisted the help of a Professor of Business Psychology, from UCL.
Process
Interpretation of Brief
The product will need to:-
Increase numbers of graduates approaching RB
Ensure the candidates have the correct skills for RB
Provide a realistic profiling tool
Allow users to compare their profile to friends
Wireframes
The product was intended to follow a very simple navigation scheme – allowing users to concentrate on the video scenarios, and their answer.
A few of the wireframes are shown below: –
Result
Homepage

Video Scenario

Video Scenario

Video Scenario

Video Scenario

Video Scenario

Video Sharing Scenario

Results Countdown
Achievements